"This statement Raspberry Cerise Feather Ring is a ring hat made from hundreds of individual hand dyed Raspberry and Cerise goose feathers over a ring crown."
Regular price
$611.00 USD
Regular price
Sale price
$611.00 USD
Unit price
per
Sale
Sold
Raspberry Cerise Feather Ring is an absolutely stunning standout piece of millinery. Every single feather has been individually hand glued to the ring crown. There are many hours of tireless work in creating this sumptuous piece by Wendy. Breathless in beauty. This is a stand out and unique style of Wendy's. Needless to say the hours in making this hat is why most milliners will not try this. The use of goose feathers like this is quite a unique style to Wendy.
This is a hat for the woman who wants to stand out and be seen. Someone who wants to make a statement of "look at me!". And why not. Be beautiful, dress up and wear this stunning hat. Raspberry and Cerise could match so many outfits. Even an all black outfit with matching Cerise handbag and shoes would work. In fact it would look magical. Definitely a stand out hat for the Melbourne Cup Carnival. But don't be shy, this hat could be worn to so many events. But it needs to be worn with confidence. It is not a hat for the shy hearted. You can wear this with confidence that it will not be seen anywhere else.


Product Features

• This beautiful ring hat has been made by attaching hundreds and hundreds of hand dyed goose feathers over a ring crown.
• There is a riot of colour of Raspberry and Cerise feathers.
• As Wendy hand dyes the feathers there is no real limitation to what colour range you can have. View full details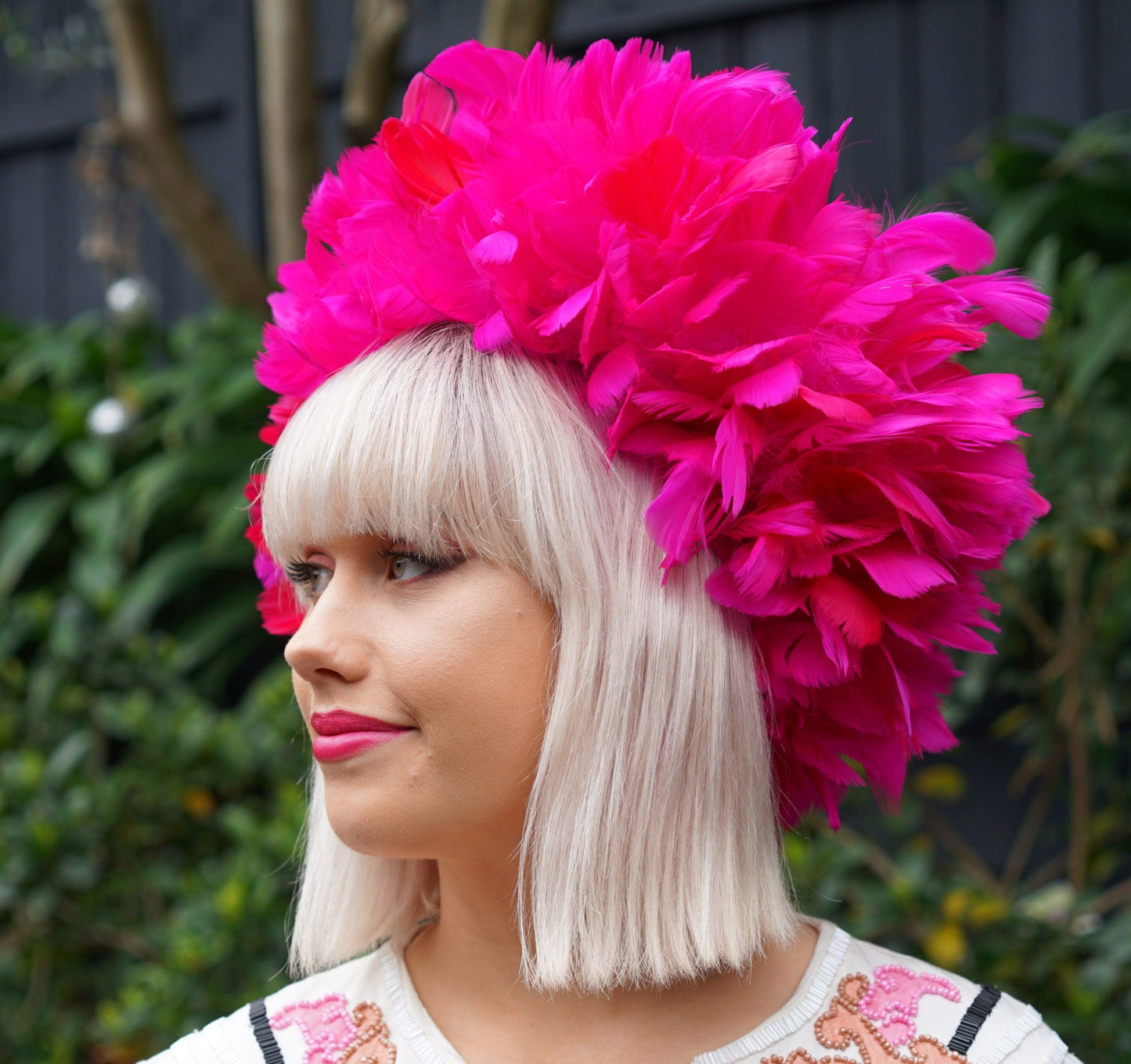 Shipping and pickup

All pieces can be shipped for a flat rate of $30 across Australia. Ready to wear pieces have shipping included. Alternatively you can visit Wendy Scully in store at the The Emporium, Melbourne, Australia and pick it up for free.

Custom Orders

All millinery pieces by Wendy Scully are one-off's. If an item is no longer available please get in touch to order your own bespoke version. She is happy to remake previous pieces with your own input and customisations, but be aware there will always be minor differences between hats due to their unique nature.

Contact Wendy today for a custom order