About
Wendy's career as a Milliner/ Hat Maker is a culmination of the skills she has developed and learned over many years. To be a great Milliner you cannot simply "learn to make hats". You need :
creativity
an eye for shape and colour
an understanding on how to best use different materials and accessories
engineering skills - an understanding of production process
a keen eye for current and past fashion trends
Wendy is a trained sculptor, designer and dressmaker. From an early age she has been a "maker" with her first skills taught to her as a child by her Merchant seaman grandfather to knit all her own dolls clothes. She qualified as an art teacher specialising in sculpture, design and textiles. Fashion and creativity are in her blood but when it came to choosing a career Wendy opted to teach Specialising as a teacher in Art, craft and design.
Wendy spent 30 years in Australia and Asia honing all the above skills. In 2010 Wendy moved to Melbourne which allowed her to, for the first time in her career, using  the culmination of her skills into one focused area, namely hat making and specifically, Millinery (hats and fascinators for Women).
 Wendy commenced full time millinery in 2010 when she moved to Melbourne and became a full member of the Millinery Association of Australia. From her humble early steps in the Millinery world she has built a thriving business with her own Atelier in the heart of Melbourne's CBD in The Emporium Shopping Centre, on Lonsdale St,  Melbourne.
Wendy is a true Milliner, not simply a designer. She believes every customer wants to feel special and buying a hat or fascinator is one of the most personal accessories a woman will purchase. Accordingly,  every hat made, displayed on this site and in Wendy's Atelier is designed, crafted and hand made by Wendy.  Each piece is unique and individual. No piece is ever copied! This ensures you will have your own personal individual hat that will not be seen anywhere else in the World. 
 Wendy is a proud member of the Millinery Association of Australia, The British Millinery Association, The Australian Fashion Council and  Craft Victoria.
Wendy was pleased to be awarded 2nd Runner up at the Myers Fashions on the Field inaugural "Lilian Frank Millinery Award" in 2022.
She also created the millinery piece, in crushed silver glass, for the 2nd Overall winner of the Best Dressed Competition at the Myers FOtF event at Flemington Race Course for Melbourne Cup 2022.
Each of Wendy's millinery creations is unique. Hours of work are invested into creating your beautiful design. 
Wendy Scully at work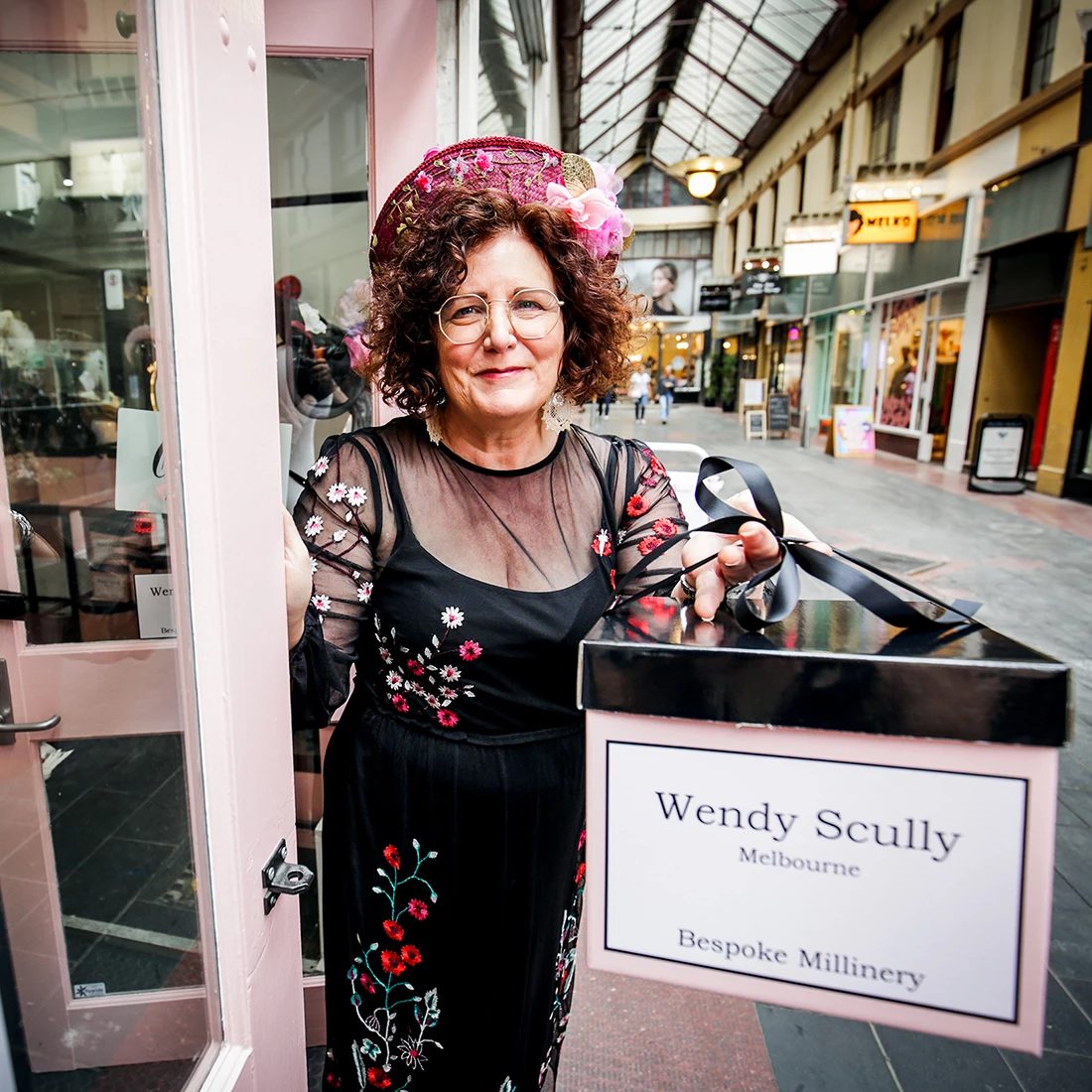 Contact Wendy Scully today to get started on ordering your next headware piece for any occasion.