"Absolutely stunning this Orange Petal \"Flutter\" Glass fascinator is made from a crushed glass fabric headband with wired hand cut orange crinoline petals."
Regular price
$604.00 USD
Regular price
Sale price
$604.00 USD
Unit price
per
Sale
Sold
Orange Petal "Flutter" Glass Headband is an absolutely stunning piece of millinery. This is quintessentially a Wendy Scully artistic creation. A definite runway piece or for the lady who wants to draw the envy of everyone else who sees you. The orange gold crushed glass material perfectly compliments the orange crinoline petals. The glass fabric reflects the light and creates a marvelous glistening effect.
This piece is called "Flutter" for good reason. The petals will flutter as you walk by like the branch of a maple tree in autumn with the leaves turning a glorious orange. So stunning. So beautiful. This hat is for a lady who wants to make a statement. Someone who wants to stand out in the crowd and say "look at me". And look at you they will. With total envy. You will look beautiful in this. This hat is incredibly light and easy to wear. If you love this impressive style of hat with hand cut crinoline petals and crushed glass fabric but were perhaps after something in different colours then contact Wendy.


Product Features

• This is a creation of hand cut orange crinoline petals that all "flutter" in the breeze. Each orange petal is wired onto the headband.
• In the centre of the petals are gold diamantes that glisten in the light.
• The headband is a comfortable wide custom made shape and it's wrapped in an orange gold crushed glass material.
• There are combs on the inside of the headband crown and elastic to wrap under your hair. It will certainly sit snuggly and securely on your head. View full details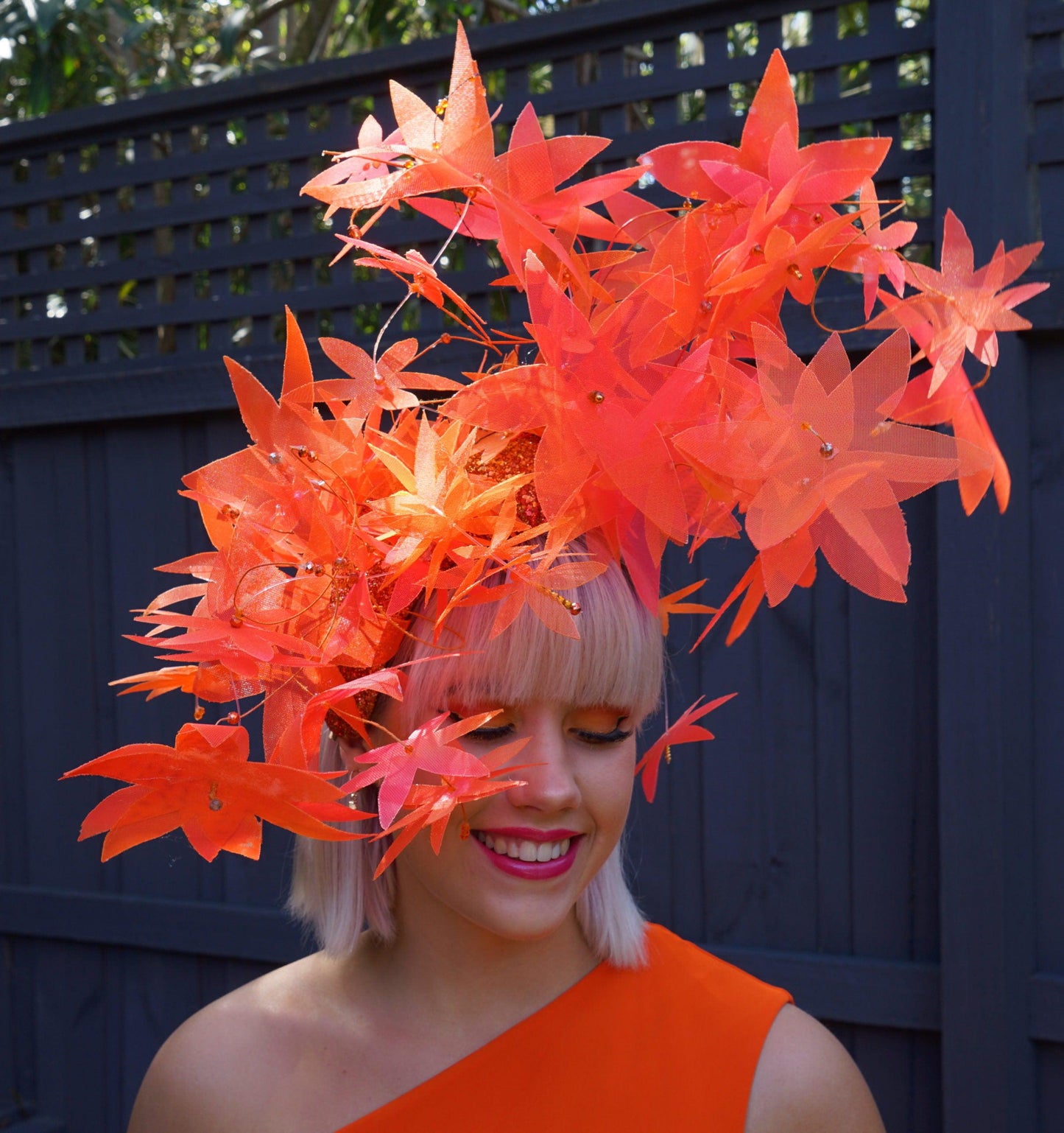 Shipping and pickup

All pieces can be shipped for a flat rate of $30 across Australia. Ready to wear pieces have shipping included. Alternatively you can visit Wendy Scully in store at the The Emporium, Melbourne, Australia and pick it up for free.

Custom Orders

All millinery pieces by Wendy Scully are one-off's. If an item is no longer available please get in touch to order your own bespoke version. She is happy to remake previous pieces with your own input and customisations, but be aware there will always be minor differences between hats due to their unique nature.

Contact Wendy today for a custom order